Publisher 2tainment and development studio Big Blaze are today pleased to announce the release of
the latest edition of their successful football management series for PC. Club Manager 2017 is now in
stores and available as a digital download on Steam™.

For years the Club Manager series has numbered among the best-loved football management games
on PC. Under the motto "By fans, for fans!", Club Manager is developed by fans who now have more
than 20 years of experience and a real passion for football running through their veins. With Club
Manager 2017 and its numerous new features and countless detailed improvements, the development
team have set a new benchmark for manager simulations.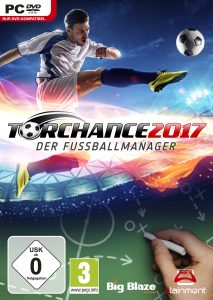 Club Manager 2017 provides a modernised graphical interface and new
atmospheric soundtrack, along with numerous other innovations. By
popular demand from the fan base, it is now for the first time possible to
follow live games in text mode. In addition, the contents of training sessions
can now be set individually for each player. In transfer or contract
negotiations, there is the option to return to the negotiating table. And if
you wish to simplify the manager's life, you can instruct your assistant
manager to line up the "fittest eleven".
Other new features: The chance to launch your career in the English league or one of four other national
leagues. The option of directly searching for particular talents makes looking for new players
significantly easier in contrast to previous games. For the first time, players can be purchased
throughout the entire season.
Club Manager 2017 offers everything that makes a good football manager: tactics, statistics, transfer
market, stadium upgrades, advertising, merchandising, developing the stadium surroundings, fostering youth talent, training sessions and training camps — for the first time now also in France and Italy!
A powerful editor complete with extensive customisation options, such as the free changing of player
and team names, give players of Club Manager 2017 the unique opportunity to put together their
dream team and league.
The printed handbook included in the DVD case not only provides budding football managers an easy
introduction and an overview of all the features, but also includes numerous professional tips
straight from the developers.
Club Manager 2017 is available now on Steam™ for EUR 24.99 (RRP).
©2017 Valve Corporation. Steam and the Steam logo are trademarks and/or registered trademarks of Valve Corporation. All other trademarks
are property of their respective owners.
---
Press contact:
2tainment GmbH
Breiter Weg 232a, 39104 Magdeburg, Germany
E-mail: pr@2tainment.com